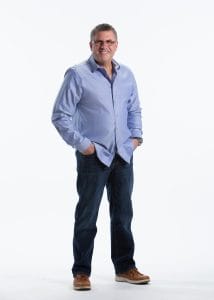 By the age of 15, Terry Rossi had lost both his father and his brother. This left a deep void in his home, and Rossi felt compelled to step up. He took on more responsibilities and contributed to the family at a younger age than most.
"That's the kind of stuff that shapes the human you become," says Rossi. "It made me a much stronger person as a result. I think that's why PICS has been successful all these years. We look to be agile, to grow organically."
Rossi learned that there is a difference between surviving and thriving. The difference lies in transformation, but transformation doesn't come by chance.
As a child, Rossi chose not to retreat in his grief but to take care of those around him and find joy and opportunity in his passions. As co-founder and CEO of PICS ITech, he offers small and medium manufacturing and construction businesses the same choice – to thrive through digital transformation.
An Entrepreneur Since Age 13, Rossi Bridges The Gap Between People And Technology
Rossi has been an entrepreneur most of his life. Hoping to contribute to the family after his father's death at just 39 years old, Rossi worked as a disc jockey at a small nightclub in South Jersey at age 13. His mom taxied him to and from work, dropping him off at 8:00 p.m. and retrieving him at 2:00 a.m. He ran the business for eight years, escaping into his love for music, but it was more than music; the company allowed him to experience the potential of technology to transform existing processes.
"Being a disc jockey spawned my love for technology," remembers Rossi. "I was well into my music career when I got my first computer. I could use simple programs to organize my music albums, print invoices to send to my clients, and print out flyers to send to prospective customers." More than anything, the experience taught him about responsibility. "It taught me to be the businessperson I am."
His entrepreneurial spirit continued in college. Rossi attended NYU and Temple University to study business, and while at NYU, he noticed some students needed access to affordable PCs. Rossi and his cousin sourced computer parts and began building and selling PCs – or clones, as they were called – to his peers. He called the business RTC Computers (Right To Copy). Giving these young students access to a PC then was a big deal. They had tools to not just survive but thrive with the help of technology. This has been the constant theme of Rossi's career ever since.
Beyond Surviving, He Helps Businesses Thrive
In 1992, while Rossi was working as the technical support manager at QAD, a global enterprise resource planning software developer, he met his future business partner, Richard Rosenthal. They were helping businesses get the most value from their technology investments, but they noticed a unique transformation in the tech and business landscape.
"What was unfolding in front of me was something that could level the playing field for small business, not just the enterprise," remembers Rossi. "But I knew that a small businessperson wasn't going to be able to capitalize on it because they didn't have the understanding – or visibility – to see what was going on, the digital transformation that was happening."
Rosenthal and Rossi could see the convergence of the Internet and business systems, and they were prepared to make it accessible to all businesses, which could then flourish in their markets.
In 1995, Rossi and Rosenthal ventured out with the mission of partnering with clients to bridge the gap between technology and business applications. Their goal was for small and medium businesses to succeed alongside larger companies instead of struggling to compete.
They saw the possibilities and wanted other businesses to thrive too. Because of their experience working with Fortune 1000 manufacturers worldwide, Rosenthal and Rossi were well-versed in enterprise-class solutions and elaborate client-server distributed computing systems.
"We were exposed to many different lines of business applications for many different businesses. Heating and air conditioning, museum management, manufacturing, life sciences and environmental contracting. All those things bring to light different solutions," says Rossi. "We have the breadth of expertise from working all over the world."
They co-founded a solution to bridge the gap between business systems and technology: an Internet services provider (ISP) called Professional Implementation Consulting Services or PICS. At the same time, PICS became one of the first QAD Alliance services partners in North America. They began installing and configuring their software – now used by manufacturers in over 22 countries – and PICS topped a million in revenue within three years.
As a services provider, PICS consulted with manufacturers on enterprise applications and provided dial-up Internet, website hosting, and web design. They were helping businesses see the possibilities ahead of them – their own opportunity for the digital metamorphosis that allowed them to thrive.
A Transformation Of Their Own
In 2008, when Rossi and Rosenthal hired an IT-managed services provider to support their growing ISP business, it was clear that not all MSPs are the same.
"My first experience with an IT services company was riddled with problems," Rossi says. "We were a technology company, not your average small business owner. We understood technology, but they sent these so-called IT experts who weren't even close to our caliber."
The MSP overpromised and underdelivered on services. But Rossi wasn't stalled – he realized that PICS was already well-situated to provide those services. They had the core values, the passion and the experience to bring IT-managed services to their clients who were experiencing the same setbacks with IT MSPs.
"We were dealing with manufacturers far bigger than we were, and they just couldn't figure it out. They didn't understand networking, routers, switches and the stuff you needed to be competitive," says Rossi.
"They needed someone to guide them, to help them be competitive. Not only to survive but to thrive and beat out those larger companies with the wherewithal and Silicon Valley investments to move their story forward."
PICS grew, transformed, and created PICS ITech, an IT MSP committed to helping small and medium-sized businesses level the playing field against their competition through digital transformation. "I knew that if only SMBs knew how to use and take part in the digital transformation, they could compete, no matter what industry," Rossi says. "They need to know that machines are being patched, solutions are being implemented, their data is secure and technology is up-to-date and working for them."
Creating A New Way Forward For MSPs
Since he was 13, Rossi has felt an inherent sense of responsibility to care for others with integrity, honesty and quality. No matter the obstacles or heartache, Rossi built a life where he didn't just survive – he thrived. Now he and Rosenthal offer the same opportunity for small and medium businesses.
They didn't build another nuts-and-bolts IT MSP; they designed a company with enterprise experience, excellent customer service, and proprietary methodology. "When someone calls in for support, we're able to help them regardless of which team member is assigned to the request, because we have things documented," says Rossi.
"PICS ITech uses a tier documentation procedure dubbed Just-in-Case and Just-in-Time. JIC covers baseline documentation when we onboard a new client. JIT provides clear explanations, notes and processes used when they encounter a new problem, so it's resolved faster next time. We don't want our clients to have to explain over and over again. We don't allow people to do things ad hoc here because if you were the guy doing the work one day and I'm taking the call the next day, I better know what's going on."
PICS ITech has created a new way of operating for MSPs. Many SMBs can't afford the resources for in-house IT, and they suffer through unreliable, inconsistent IT companies. Rossi knew that his clients deserved better, and PICS ITech ensured excellent service.
"Many times, we're going to an SMB that may have one person in IT; that person lasts, on average, 24 months," says Rossi. "That's why we have a team, procedures and documentation. We don't have that much turnover, but when we do, it doesn't affect our relationship."
Digital Transformation Is The Way Forward For Businesses That Want To Thrive
"I see these local businesses suffering from competition like Amazon and other big companies. I think the challenge and the opportunity are still the same," observes Rossi. "The guy next door to me who sells trading cards has an opportunity to compete with the largest trading card vendor in the world if he only knew how to use and take part in digital transformation."
As an MSP, PICS ITech seeks to offer a business the chance to evolve digitally from apps to invoicing, to cyber security, so businesses can access the tech that allows them to grow securely. "We're looking at your business as a businessperson. We can find tools and technologies to make you more competitive and more profitable," explains Rossi.
"If you're a service company, you may have iPads in the field now, or if you're a manufacturer, barcode scanning throughout your warehouse; if you're a food producer, we'll put thermostats in your refrigerators. Those things are outside the normal Windows server or desktop." Most importantly, Rossi says, "we bring digital transformation to companies."
PICS ITech's commitment to building relationships with clients, using proprietary procedures and delivering on every promise has set them apart from the standard IT company. The results are evident – digital transformation leads to growth, and PICS ITech is there every step of the way. In 2008, PICS ITech began working with its first MSP client, a small manufacturer.
This business saw the value of PICS ITech's services immediately. They signed an agreement for IT services and support for $7,790 per month. Today, this client is an over $300 million company. They now pay more than $75,000 per month. Since working with this client, PICS ITech has grown to 28 employees in three states, serving nearly 200 customers.
PICS ITech Is A Team That Takes You There
Rossi has used his experience to become a thought leader in IT and cyber security. He is the author of Hiring In The Digital Age and co-author of the #1 Amazon best-selling book On Thin Ice, which helps businesses worldwide take advantage of digital transformation. He also hosts the IT Provider Network podcast and is an Ernst & Young Entrepreneur of the Year nominee.
PICS ITech's business model and ethics have made global strides in the IT industry. PICS ITech is on the Inc. 5000 list and Philadelphia Business Journal's Soaring 76 is one of the fastest-growing companies. They've also won more than 40 industry awards and have been listed among the top 500 MSPs in the world every year since 2012.
PICS ITech has made strides in the industry because Rossi knows "what got you here won't get you there." Despite the devastating death of his father and brother, Rossi learned to thrive. Now he leads his team with an entrepreneurial mindset.
They also make smart, invested decisions in key employees, effective policies, and procedures to help SMBs flourish. "If you want to grow and use technology as a competitive advantage, you need a company that can take you there," says Rossi, "not just talk about taking you there."
For more information on PICS ITech, visit https://www.pics-itech.com/.